Luximio
23/01/18: Discord Rich Presence
---
Hi players!

We worked on the Luximio support for Discord Rich Presence. It will definitely be in the next release!
It will show what level you're playing on and the time elapsed since the start of this level.
It will also show that you're in the warp zone!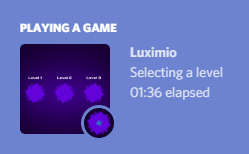 (Yes, I agree, it's less useful to show that you are selecting a level, but it's still cool!)
By the way, we're still working to add other cool things you'll maybe see later :)
See you soon!
Alexis C.